It's not too early to start planning and thinking about next year. With the holidays coming up, think about giving the gift of an experience—or adding a visit to Sweet Pepper Ranch to your own "wish list!" There are many different ways you can experience Sweet Pepper Ranch: as a small-scale personalized guest ranch, an overnight bed and breakfast or as a horse motel. Bring your own horse or ride one of our kind, highly trained reining horses. Come for a Cowgirl Weekend Getaway—or stay for a week of adventures. Check out the website to see lots of smiles from past guests —be sure to all the way scroll down!
Suggested dates and themes are listed on the website, but you are welcomed to come up with your own dates and ideas. Peruse our website for photos and ideas that lift your spirit. Let us know what interests you and we'll do the rest. Upon your arrival we'll have your curriculum planned for you, all you do is enjoy. Do you like rodeos? Herding dog trials? Street fairs? Vineyards and wine tasting? Breweries? Nice restaurants? Basque or Mexican food? Train rides? Golf? Rafting or fishing? Birding? Would you like to ride through the desert with its beautiful muted pallet of colors and interesting rock formations? Or maybe a trailride with the cool mountain breeze and whisper of evergreens? Tell us your dreams and we'll do our best to make it happen.
One truly unique and relaxing nearby activity you can enjoy while staying at Sweet Pepper Ranch is a farm-to-fork dinner, such as ones held at Peaceful Belly Farm, an ecologically sustainable urban farm featuring certified organic produce. Enjoy a spectacular meal paired with local wines in the most exhilarating of outdoor settings.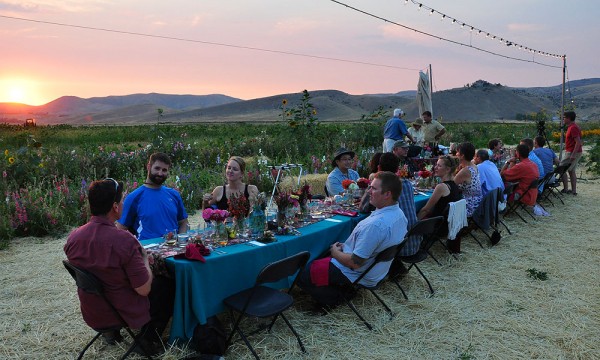 And don't forget riding—opportunities are endless here, whether it's a moonlight trail ride or a ride to see wild horses, we got you covered in a fun, safe "horse camp" atmosphere tailored for adults. We also offer work/study opportunities for folks who want to learn green horse keeping.  And for horsey folks traveling through the area, we have a safe, convenient place to spend the night for both horse and owner—and pets!
Carve out some special time for you and friends or family for next summer next year and start dreaming!
Alayne and Matt