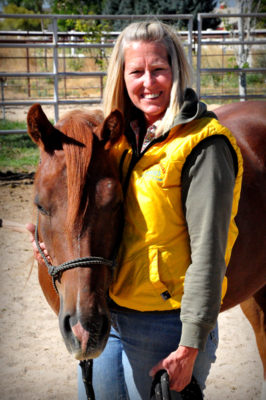 I have a story to share with you. It's about me and a horse, a Mustang to be specific, who picked me out of a crowd.
I am a volunteer member of the Boise BLM District's Resource Advisory Council, a committee that meets regularly to learn about issues and actions the Boise District BLM is facing and provide input. Early this past summer 2016, as part of that committee I was able to tour a new BLM Off-Range Holding Facility for wild horses in Bruneau, ID. It's a well thought-out, well-designed facility for holding horses too old for adoption or otherwise less likely to be adopted. The intent is to hold them there until they can be sent to long-term holding facilities back East.
From my perspective the BLM does an amazing job of caring for its wild horses. This Off-Range Facility has 2000+ horses which all get food and water along with regular vaccinations, hoof trimming, and de-worming and they are all held in large pens. It's better than what we sometimes see in private homes as they are seemingly in good health with very few injuries. But still, as you know, it's no way for a creature to live out its life. Like with puppies and kittens, it's quite the strong argument for not breeding horses but rather adopting ones that are already here.
So back to me and my BLM tour of the Holding Facility in Bruneau. The tour was quite interesting and as we were going along it was only natural for me to admire the horses, so many nice-looking ones with good confirmation. That's when I saw Stellar. She was in lucky Pen 13 which held all older mares. I was struck by her kind, calm eye and beautiful long mane all in dreadlocks. As I reached out to touch her, I realized she wasn't frightened of me like most wild horses. I touched her face, tentatively at first, then her ears, neck, shoulders… she stood next to the fence with her eyes half closed, craving attention as I scratched her withers.
I left her side to continue on with the tour but soon realized she was following me, begging for more attention and pushing other horses out of the way so she could stand as close to me as possible, quietly waiting for me to notice her again.
What are the chances that I'd go on a tour and have a horse pick me?
Fast forward: July 25, Stellar came home with me and I've been working with her as much as possible since then. Each day last summer and up until the snow started flying in December, I worked regularly with her. From day one she's been calm, kind, and so appreciative of attention. So far — with instruction from others more knowledgeable than I — and in less than eight weeks I taught her to halter, lead, be groomed, move body parts, stand tied, pick up her feet, be saddled, bridled, ground driven with long lines, trailer loaded, hosed off, be ponyed (walk, trot and even lope).
She's learned how to stand to have her hooves trimmed and she's had dental work  and vet care. I've even begun riding her. It's been a blast, an amazing journey I never expected to experience.
I look forward to sharing Stellar with you! Come meet Stellar and the rest of the gang at Sweet Pepper Ranch. In addition, if we can provide you and your horses a comfortable place to stay it would be our pleasure. We have room for horses and their people — plus we offer get-away vacations for equestrians, riding lessons and clinics, and training for those wanting to learn about sustainable horse keeping practices.
AND — if you are interested in Mustangs we can help you with that as well! Literally thousands of beautiful horses with good confirmation and color are available to chose from — many are kind-looking horses like my Stellar. These Mustangs are available for adoption from the BLM to approved homes for a mere $125. We can help hand lead you through the process (it's easy!) Matt Livengood, my husband and co-manager here at Sweet Pepper Ranch, is an approved Mustang Heritage Foundation trainer available to help you pick out a specific horse and get it gentled or trained.
If you'd like to know more about Sweet Pepper Ranch — or Mustangs — please contact us! Until then Stellar and I look forward to meeting you here at Sweet Pepper Ranch.