The southwest corner of Idaho is wide open country. Despite its proximity to Boise, the capitol of Idaho, this area remains remote and wild while interspersed with irrigated agricultural land. To the South lies the Owyhee Canyonlands and the Snake River Valley. A ride through this area looks like something straight out of a John Wayne Western, complete with wild horses grazing nearby. To the East is the Oregon Trail and the history that unfolds with it. The forested Boise Foothills are to the North with many riding opportunities. To the West are cattle ranches, ropings and rodeos.
Join Matt and Alayne at Sweet Pepper Ranch to experience some of the Old West as well as enjoying the beautiful outdoors. Pitch in to experience ranching responsibilities which might include haying, cleaning stalls and paddocks, mowing fields, turning out horses, building shelters and fences or irrigating pasture to name a few.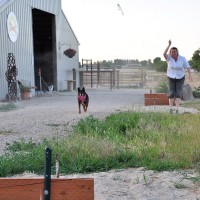 Relax with a swim in the pool or at night sit by our fire pit and listen to the howl of coyotes while watching the stars twinkle.
Work and Learn
Would you like to work on a ranch and learn about green horse keeping? We welcome working guests.  Please inquire at Alayne@horsesforcleanwater.com.