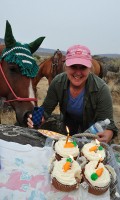 Welcome to horse camp for adults where you can bring your horse or ride one of our well-trained reining horses.
Arrive on a Thursday, leaving on a Sunday — three nights and two full days of riding, relaxing, learning, visiting and enjoying good food and good company.
Dates: 2013 Schedule – Will be announced soon!
April
TBA
May
TBA
June
TBA
July
TBA
August
TBA
September
TBA
October
TBA
Dates: 2012 Schedule – Here are some of recent events
April 26 to 29
Spring Desert Flowers
Available
May 10 to 13
(Mothers Day)
Mother/Daughter Weekend Getaway
open
May 25 to 28
(Memorial Day)
Discovering Birds of Prey
BOOKED
June 7 to 10
The War Horse (play) featured event
BOOKED
June 28 to July 1
Mountain Home Rodeo
open
July 19 to 22
Snake River Stampede and SRRA reining show
open
July 26 to July 29
Celebrating Local Produce, Farms and Wineries
open
August 9 to 12
Owyhee County Rodeo
open
August 31 to September 3
Labor Day Weekend
open
September 20 to 23
Jordan Valley Rodeo and Sheep Dog Trials
BOOKED
October 4 to 7
Hot Springs Weekend
open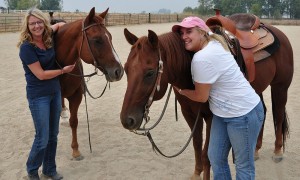 Tell us what you'd like to do or learn and we'll do our best to make it happen!
Some of the activities your visit can include are:
Trail ride at any of the several of the close-by trails while keeping an eye out for wild horses.
Ride your horse or bike to a local winery.
Sit around a campfire at night listening to coyotes while watching millions of stars.
After a morning of riding in the hot sun, jump into our pool to cool off.
Indulge in a massage at a nearby spa.
Spend a day moving cattle from one allotment to the next.
Visit North America's largest concentration of raptors—learn about hawks and see live demos at the World Center for Birds of Prey.
Learn from local cowboys how to rope.
Play a game of hoofball with your horse and other riders.
Take an evening to attend a real rodeo—held around the area almost every weekend in the summer.
Enjoy a dinner of locally produced, pesticide-free food at a nearby working neighborhood farm, while learning how to make soap or decorate a wine glass.
Shop at local farmers markets or nearby family farms.
Participate in farm chores such as bucking hay or mending fences.
We will tailor your experience to include a variety of riding experiences—such as reining clinics, round pen demos, an evening discussion and review of the NRHA judging system, horse facility design/management or learning about environmentally sensitive horse keeping – Alayne's speciality!
A sampling of meals might be:
Grilled personal pizzas
Fresh spring rolls
Grilled salmon and veggies
Sautéed chicken and pasta with grilled corn on the cob
Homemade ice cream for dessert
Snoqualmie Falls pancakes or waffles for breakfast with fresh, local fruit
We make every attempt to use organic, sustainably produced, local foods!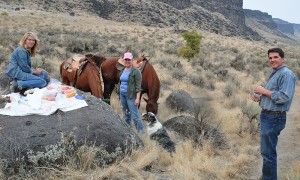 Cowboys are also welcomed to join in, especially if you have one you want to bring along!
Rooms:
The Northwest Room, queen sized bed
The Country Room, double bed
(shared bathroom for guests)
Rates:
$425/person/Cowgirl Getaway, based on double occupancy
Includes all on-site meals for you and your horse (off-site events with a fee are a la cart)
You are welcome to stay in your RV – $320 includes electric (110v) / water plus use of bathroom and shower in the house, as well as all on-site meals for you and your horse.
Small groups, personal attention!
We will arrange an agenda, prepare meals and have your comfy room – as well as your horse's – awaiting your arrival!
Experience fresh food, fun in the Idaho sun and horse'n around!