Wonder and Beauty Retreat
"The Wonder of Horses and the Beauty of Living – a Two Day Retreat for Women"
Saturday & Sunday: May 26 – 27 or October 6—7, 2018
Join Charla Miller and Sweet Pepper Ranch for an equine inspired retreat on a beautiful working ranch in Southern Idaho. Surrounded by the majestic Owyhee Mountain range where the Wild Mustangs roam, engage in non-mounted horse activities and learn the language of horses. We'll start our mornings with yoga and stretching surrounded by our horse friends (no yoga experience is necessary). Discover the allure of your wildest dreams in our vision boarding session and be prepared to see yourself in a whole new way through our beauty and photography session (two digital photographs included).
Enjoy organic and local (as available) breakfast and lunch poolside each day and wind down your first day with a wine tasting from our local wineries.
---
We'll start each morning with an hour of yoga and stretching sessions – each designed to improve our strength, flexibility and awareness (take-home techniques will be shared).
You'll work with natural horsemanship trainer, Matt Livengood and his wife, Alayne Blickle to experience the profound heart-felt connection that horses provide. This non-mounted horse experience invites us to be present as our awareness grows in mind and body.
After spending time with the horses, many women experience a profound shift in the way they see themselves and their life's circumstances. This heightened awareness and compassion becomes a basis of greater well-being.
You will discover your wildest dreams through creating a vision board. You'll learn how focusing on your board for 5 minutes a day can release the power to attract and manifest your dreams. All materials will be provided to create and transport your board home.
Along with a new vision for your life you'll be placed in the hands of celebrity beauty artist, Charla Miller and local beauty pho-tographer, Sara Richardson. In this afternoon session you'll experience what it's like to look and feel your very best. You'll leave the retreat with a new vision for yourself, along with two digital photographs, and an experience of the wonder of horses.
To register, contact Charla Miller via beautyhealsyou.com /contact or by email at charla@beautyhealsyou.com.   Download a PDF of this page and share it with a friend.
Saturday & Sunday: May 26 – 27 or October 6—7, 2018
Rate: US $695.00 for the two day retreat.
Nonrefundable deposit: US $100.00 (balance paid in full 45 days before each retreat session. Early bird discount available if paid in full 60 days before retreat.)
Minimum Participates for retreat: 5
Max Participants: 10
Early Bird Special US $595, if paid in full 60 days before scheduled retreat.
Daily morning yoga and stretching sessions – each session designed to improve your strength, flexibility and awareness:take-home techniques will be shared.
Daily sessions with the horses. First day session with Alayne and Matt will include basic horse care and non-mountedhorse activities that will help you in connecting with your soul's desires. They will show how our energy affects thehorses and how that awareness translates into our everyday interactions with others. Day two with the horses includestime with them in the round pen and your photography session with your favorite horse, if desired.
Vision boarding session: create the life of your wildest dreams and learn how a few minutes a day focusing on yourboard can help you to start manifesting it! (all materials will be provided).
Makeover and photography session with Charla and Sara (day 2),
4 meals (breakfast and lunch) prepared for you with (as much as possible) locally sourced, sustainable, and organic produce.
Meals will be low-gluten, low dairy, and no red meat. Daily free time in the pool (weather permitting) or on the deck relax-ing. Wine tasting included on the ranch (first day only). Great conversation and bonding with amazing women from all around the world. If you're staying on the ranch, evening bonfire.
Does not include housing, transportation to Idaho or transportation to the ranch. If needed, transportation from the airport to the ranch is available. Rooms at the ranch are available via www.sweetpepperranch.com. Other housing in the area is available on Airbnb or hotels. Recommendations will be available if needed. (No horse experience is necessary and no mounted activities. No yoga or meditation experience is necessary, just a willingness to have fun!)
 Day One:
Our first day we will work with Matt and Alayne and learn how to connect and communicate with the horses. You'll learn basic horse care, learn the language of horses and how to work with them as equine partners. After lunch is served, we'll meet in the barn for a workshop of vision boarding with artist and author, Charla Miller. She will share her experiences of vision boarding and how this fun and creative practice continues to change and guide her life to-day. All materials will be available for you. After completing your board you'll be treated to a wine tasting from our local wineries.
7 am Welcome/Registration/Introductions with sparkling water and juice
8 am Yoga
9 am Breakfast
10 am – 12 pm Work with Matt and Alayne and the horses. How horses communicate, basic horse care, working with the horses in the round pen and more.
12:30 – 1:30 pm Lunch
1:30 – 4:00 pm Surrounded by these majestic animals, you will create the vision of your wildest dreams through the transformational art of vision boarding and learn the power of what 5 minutes a day can do to manifest your new vision.
4:15 – 5:00 pm Free time to relax by the pool, journal and enjoy the serenity of the ranch.
5:00 – 6:00 Wine tasting from our local award winning wineries and hors d'oeuvres.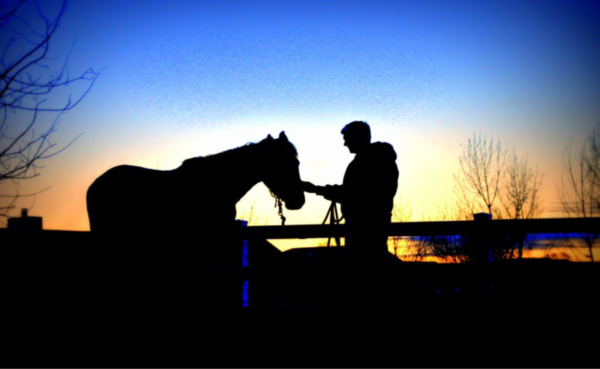 Day Two:
Day 2 will include an individual session with beauty artist and author, Charla Miller. Individual makeup and light hair will be applied just for you. Sara Richardson will take pictures of you at various spots on the ranch that will be beautiful and memorable. The retreat includes two digital photos for your use. If you'd like more of the pictures that Sara shoots, they will be available to you at an extra charge.
8 am Yoga
9 am Breakfast
10:00 – 11:30 am  Circle Time of Dreams with the horses. We'll start our session in a circle with each other surrounded by our equine friends (and possibly our other furry friends of the ranch) and share our intentions and heart centered visions for our day. This sacred space often opens our intuition and allows new and creative ideas to come to us. A journal will be provided and with the interaction of the horses more will be revealed. Walking, talking and communing with the horse is a powerful and playful time.
11:45 – 12:45 pm Lunch
12:45 – 5:00 pm Makeover and individual beauty photo sessions with Charla and Sara on the ranch.
End of day 2 Fond Farewell

To register, contact Charla Miller via beautyhealsyou.com /contact or by email at charla@beautyhealsyou.com.